Progammable PIN pads for cash register systems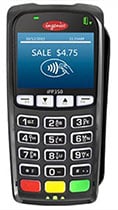 A programmable PIN pad is a device connected to a cash register. This device may be used both by chain stores with their own IT solutions and entrepreneurs using software provided by external companies.
In contrast to the classical terminal, transactions using pin pads require no additional involvement of the cashier. The data is automatically transmitted from the cash register to the pin pad which eliminates most errors related to the incorrect implementation of the transaction amount, resulting in a positive effect on reducing the number of complaints filed by customers. It also allows entrepreneurs to avoid loosing money.